Many people with TMJ disorders also have other medical conditions, including common pain disorders that co-exist called Chronic Overlapping Pain Conditions (COPCs). Because dental and medical professionals receive very little education and training on these conditions, and because medical and dental specialties are so compartmentalized in our health care system, most clinicians and dentists are not aware that these conditions are associated with one another and that they can have similar risk factors and mechanisms of action. However, in order to treat the "whole person" in a patient-centered manner – and receive effective, comprehensive care – all of the conditions that you suffer from should be taken into consideration in developing an individualized treatment plan.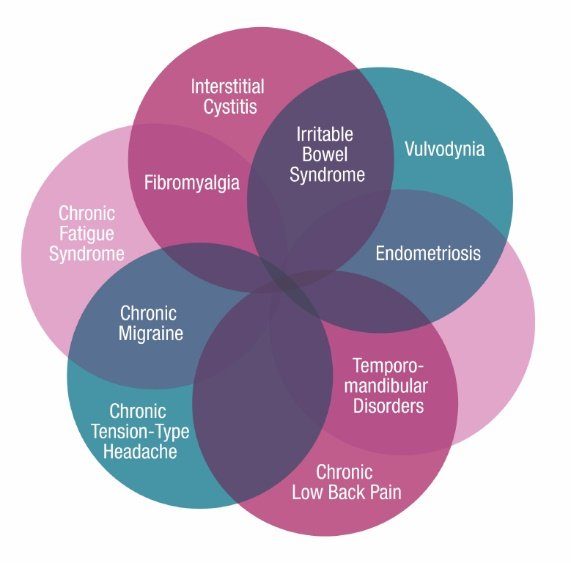 We understand – given the challenges in our current health care systems – that finding health care professionals who take a "whole person" approach isn't easy. Many times, it is the patient who takes on the responsibility of finding and coordinating care from a number of different professionals. To address this important issue facing many patients with TMJ disorders, the TMJA developed a specific initiative – called the Chronic Pain Research Alliance (CPRA) – to advocate for COPCs research, education and treatment.
Below are resources that CPRA has developed to assist you in the process of obtaining comprehensive care.
Chronic Overlapping Pain Conditions - Brochure
Chronic Overlapping Pain Conditions – Patient Guide
This patient self-help booklet provides a comprehensive overview of the understanding, diagnosis and medical management of COPCs. It addresses topics such as: understanding the nervous system and how the body processes pain; the impact of sleep, mood and other factors on COPCs; developing an individualized treatment plan; tracking progress; shared decision-making; and improving communication with your clinicians. https://chronicpainresearch.org/wp-content/uploads/2023/06/CPRA_Patient_Guide.pdf
Cutting Edge – COPCs Research Advances E-Newsletter
This quarterly e-newsletter was developed to keep the patient and medical-scientific communities up-to-date on recent COPCs research advances. It contains abstracts of recently published studies on the prevalence, risk factors, mechanisms of action, diagnosis and treatment of COPCs. Sign up here to receive this free e-newsletter.
View past issues:
The CPRA published two whitepapers to promote the need for greater COPCs awareness, research and funding. They include:
Chronic Pain Research Alliance Website