Connect Here for the TMJ Support You Need
You are not alone. An effective way to cope with the isolation, fear and rejection that TMJ patients may experience is to join a support group. We invite you to join TMJ Café, a free online support network for those with TMJ disorders. Connect and share anonymously with others like you!
The TMJ Association, in partnership with the health social network Inspire, brings you this safe online environment to get valuable information and support from others who understand what you are going through.
Click on the button "Join This Community"
Follow the basic instructions and register yourself
Once completed, you will receive a confirmation email
If you have any registration questions or problems, contact Inspire's help desk.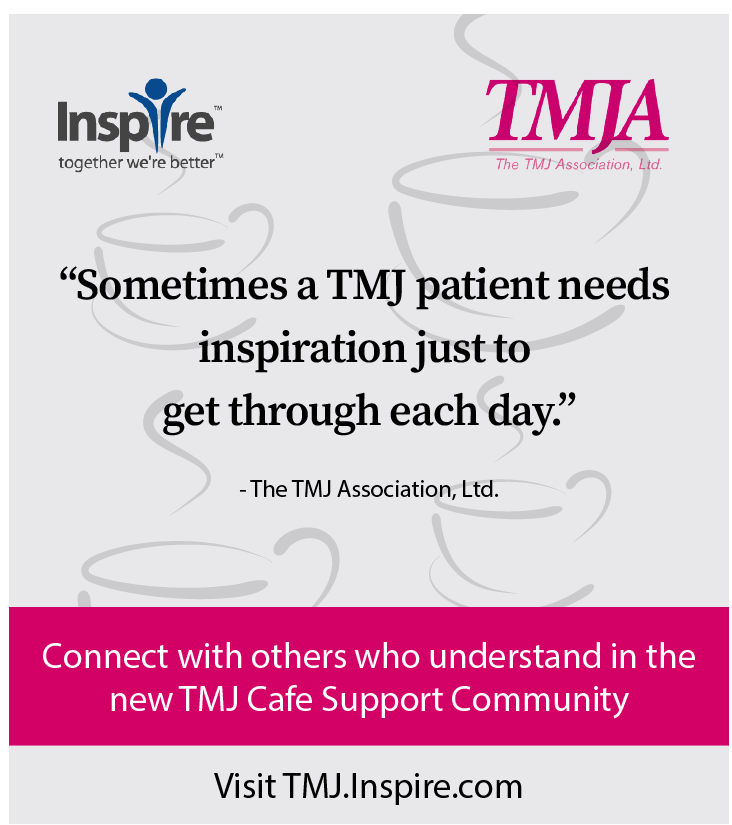 Reach Out For Patient Support
Get in touch with a TMJ patient who can serve as a support contact, someone who understands and can speak with you about the treatment, physical, financial, emotional and social issues you may be experiencing. If you would like to speak with one of our patient Volunteer Support Contacts, please email us at info@tmj.org.
Disclaimer: Information provided is for general informational purposes only and does not constitute professional medical advice, diagnosis, or treatment. You should always consult your doctor if you have questions about your health condition or before starting any treatment. The TMJ Association does not provide doctor referrals.
Beyond the Pain, Beyond the Dysfunction, There's Hope
For some with TMJ, pain and dysfunction can be relentless  leading to a feeling of hopelessness and depression. A CDC study finds that nearly one in 10 suicide deaths in the U.S. occurs in people with chronic pain. If you or someone you love needs support, immediately contact the National Suicide Hotline at 1-800-273-8255. 
To Give Support, We Need Support – Donate Now
The TMJ Association is committed to providing support to patients and their families as they navigate the frustration related to TMJ disorders. But we can't do it without your ongoing donations and volunteer support.
Make a tax-deductible contribution today! The TMJ Association, Ltd. is a nonprofit 501(c)(3) tax-exempt organization. There are many ways to give including online, by check, Facebook and via Amazon Smile.