Raise Awareness and Funds for Research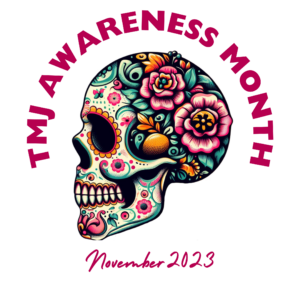 During TMJ Awareness Month, The TMJ Association is committed to bringing attention to the significant impact that Temporomandibular (jaw) Disorders (TMJ) impose on millions of people across the globe. Let's work together to improve understanding among our friends, family members and others!  
Approximately 36 million Americans suffer from TMJ and 90 percent of patients seeking treatment for TMJ are women of childbearing age.
Studies show that 30-plus health conditions can coexist with TMJ disorders.
The annual US economic impact of TMJ is $32 billion.
For over 30 years, The TMJ Association has been the trusted source of information on TMJ.
There is scant evidence on the safety and efficacy of the 50-plus TMJ treatments.
The National Institutes of Health invests less than 0.05% of its total annual budget on TMJ research – which is just $0.49 per each TMJ patient.
Learn more basic facts about TMJ at: https://tmj.org/living-with-tmj/basics/
Shop to Spread TMJ Awareness
Explore our store, featuring our TMJ Awareness November 2023 sugar skull design. Your purchase not only allows you to support The TMJ Association but also helps raise awareness!
Spread Awareness on Social Media!
Throughout the month of November, we will be posting TMJ facts, quotes, patient experiences and more on our social media pages. We would greatly appreciate your help in sharing our posts to help bring greater awareness to TMJ!
Patients have played and continue to play a major role in bringing attention to the need to advance the understanding of and ability to treat Temporomandibular Disorders
Voice Your TMJ Experience
The more we work together to raise awareness of Temporomandibular (TMJ) Disorders, the better people will understand how prevalent, impactful, and complex this condition really is. We want to hear from you! Send us brief summaries about your experiences with TMJ either in writing or by video.
Possible topics to address include:
What triggered your TMJ issues? What are your symptoms? How long have you had them?
What TMJ treatments have you tried (e.g., the number of treatments, results, and approx. costs)?
How has TMJ impacted your relationships with friends, family, employers, co-workers, and others?
What about TMJ would you like to see changed or improved in the future?
What has helped you the most throughout your TMJ journey?
Have you experienced stigma in your journey to be diagnosed and/or treated for TMJ? (provide examples)
What would you wish the public knew about TMJ?
What do you know now that you wish you would have known back when your TMJ first started?
Anything else you'd like to share about TMJ disorders.
By submitting your experiences with TMJ, you are giving The TMJ Association permission to post and share this content on its website and through social media channels. If you submit a video, we ask that it be no longer than 3 minutes. Please send your submission to: info@tmj.org. For larger video files, you can send them to us via https://www.mailbigfile.com/.
We encourage you to share your thoughts on social media. Please tag the TMJ Association and use the following hashtags:
#TMJAwareness    #NovemberTMJAwareness     #TMJAwarenessMonth     #LifeWithTMJ    #ChangingTheFaceOfTMJ
Raise Awareness and Funds for Research!
Just think … if everyone who had TMJ gave $1.00 we could raise $36 million to help us find a cure, educate the dental, medical and allied health professionals about their role in caring for TMJ patients, promoting awareness of the reality of TMJ.
Fundraise on Facebook or send a donation to the TMJA directly. Learn about the many ways you can support the TMJA and help spread awareness!